Audio
Swingin' the Boogie (1945 - Modern Records)
Real Player
You Won't Let Me Go (1947 - Modern Records)
Real Player
That's My Desire (1947 - Modern Records)
Real Player
Time Was When (2000 - Virgin Records)
Real Player
I Feel So Good (2000 - Virgin Records)
Real Player
Discography
Filmography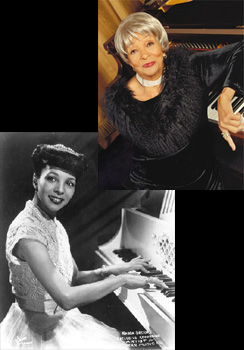 Legendary Jazz & Blues singer, songwriter, pianist, and actress, Hadda Brooks (1916 - 2002 ), passed away on November 21, 2002 from natural causes. She was 86.
HADDA BROOKS, hailed as the "The Queen of Boogie Woogie" and "The Empress of the Torch Blues", began her recording career in 1945 with "Swingin' the Boogie" (the first release on Modern Records - BEFORE other artists like John Lee Hooker and B.B. King recorded for Modern).
Aficionados of both music and film will recall Ms. Brooks classic recordings along with her several film appearances, including:
Her feature film debut with TURHAN BEY and GEORGE BRENT in director, Leigh Jason's, "OUT OF THE BLUE" (1947). Featuring: Julia Dean, Ann Dvorak, Carole Landis, Richard Lane, and Virginia Mayo.
The smoky beckoning of Ms. Brooks' voice as she sang to movie icon, HUMPHERY BOGART, in director, Nicholas Ray's, "IN A LONELY PLACE" (1950).
Featuring: Gloria Grahame, Frank Lovejoy, Carl Benton Reid, Robert Warwick, Art Smith, and Jeff Donnell.
With KIRK DOUGLAS in director, Vincente Minnelli's, "The BAD AND THE BEAUTIFUL" (1952). Featuring: Lana Turner, Walter Pidgeon, Dick Powell, Barry Sullivan, Gloria Grahame, and Barbara Billingsley.
With JACK NICHOLSON in director, SEAN PENN's, "The CROSSING GUARD" (1995).
Featuring: David Morse, Anjelica Huston, Robin Wright Penn, Piper Laurie, Lindsay Wagner, Priscilla Barnes, Robbie Robertson, and Angie Dickinson.
With CRAIG BIERKO and VINCENT D'ONOFRIO in director, Josef Rusnak's, the "THIRTEENTH FLOOR" (1999). Featuring: Gretchen Mol, Armin Mueller-Stahl, and Dennis Haysbert.
And Ms. Brooks acting debut in director, Jefferson Davis', "JOHN JOHN IN THE SKY" (2001). Featuring: Randy Travis, Matthew Letscher, Rusty Schwimmer, Romy Rosemont, and Aunjanue Ellis.
Ms. Brooks also appeared in several "SOUNDIES", from 1947 - 1948 (including "Queen of the Boogie, "Boogie Woogie Blues", & "Joint Is Jumpin'") and hosted her own television show in the 1950's, airing prime time on KLAC (now KCOP) in Los Angeles, CA. The show, called, appropriately "The Hadda Brooks Show", gained Ms. Brooks the ground breaking title of being the FIRST African-American woman to appear regularly on prime time television with her own show (long BEFORE other hosts like Oprah Winfrey & Queen Latifah debuted on television). She hosted the show from the piano, which combined talk show with musical entertainment (much like an earlier version of today's "Late Night" with David Letterman and the "Tonight Show" with Jay Leno).
At her 80th Birthday party, held at Johnny Depp's club, the Viper Room (in Hollywood, CA), Ms. Brooks was greeted by her many fans and friends including; Jack Nicholson, Uma Thurman, Johnny Depp and Sean Penn. Ms. Brooks 80th year also marked another milestone in her legendary career with her Virgin/Pointblank album "Time Was When". This release represented a particularly poignant homecoming for Ms. Brooks. With "Time Was When" she became the first artist in history to sign with a record label, as a new artist, FIFTY years after the artist originally signed to the same label. This began in 1945, when music impresario Jules Bihari created Modern Records specifically as a home for Ms. Brooks' music (later, Modern went on to become one of the most famous R&B labels of all-time - After their success with Ms. Brooks' first recordings, Modern released recordings by B.B. King, Etta James, John Lee Hooker, Charles Brown, and MANY more legendary artists). In 1994, after acquiring the Modern catalog, Pointblank/Virgin released "That's My Desire", a 25-track CD of Ms. Brooks' early gems. Then in 1995, Ms. Brooks joined Modern Records' current parent label, Pointblank/Virgin Records, exactly FIFTY years after her original 1945 Modern Records debut.
While in her 80's (when most people are retired), Brooks drew wide critical acclaim for her recordings and performances, including accolades from the Los Angeles Times, New York Times, L. A. Weekly, etc., and was awarded the prestigious "Pioneer Award" by the Smithsonian-based "Rhythm and Blues Foundation", acknowledging her ground-breaking work in recording, radio, film, and television. She also found an eager and receptive audience in a new generation of fans, including recording "You're My Cadillac" with roots artist, Deke Dickerson, and members of alternative rock band, the Geraldine Fibbers, whom Ms. Brooks recorded with on her CD "I've Got News For You" for Virgin Records (1998).
Ms. Brooks songs conjured many sounds, styles, and emotions; including bawdy blues, classical boogies, comical hokum, smokey jazz, lonely ballads, painfully tender romance, amazingly technical playing, or straight up barrelhouse & juke joint goodtime, and she never lost the strength and empowerment that established her as one of jazz & blues' most devoted mistresses of song. She continued to delight her fans up until her death, at age 86, with the same impassioned brassiness as she did in her recordings and performances from the 1940's to the 2000's....From Analog to Digital....From 78 Records to MP3's.
Called an "American Treasure" by Bonnie Raitt, Ms. Brooks was an enchanting and sultry torch singer, an original "Jazz Diva", that will be sadly missed by her many admirers worldwide. -- mj (11/22/02)
© 2002 HaddaBrooks.com
Discography, Filmography, & Photos, for HaddaBrooks.com, provided by Chris Morano.
info@HaddaBrooks.com